How to choose your ski equipment ?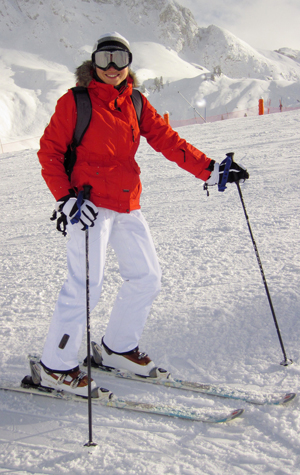 Every winter, millions of people offer themselves a ski stay. Whether it's for a weekend or a holiday period, they have to choose the best outfit according to their needs and glide style . Discover our tips on how to wear the perfect outfit on the slopes.
During a ski holiday, if the choice of skis or snowboarding remains very important. It is essential to equip yourself safely according to your ski level and your ability. In the ski rental shops, sellers do their best to take care of skiers of all levels and help them make the relevant choice. This is the case in the Mountain Story ski rental shop in Tignes.
However, there is another part of the skier's equipment that is just as important as his skis: his outfit. To fully appreciate the hours spent on the slopes, it is advisable to choose the right outfit, both warm and comfortable.
Multiply layers to ensure ideal protection
The golden rule of ski wear is to multiply the layers of clothing. It is indeed necessary to count 3 different layers, each with a specific function, to be correctly insulated from the cold. The challenge lies in the choice of materials, in order to be well protected without having to give up your freedom of movement.
The first layer: technical underwear
The first layer, the one that is in contact with the skin, must be both warm and breathable. It must absolutely allow perspiration to escape so as not to create humidity, and therefore cold. This first garment should then be rather thin and moderately warm. If you prefer to wear natural materials, you can opt for a technical underwear made of wool or silk.
The advantage of natural materials over synthetic materials being that they do not retain odours: you can therefore wear them several days in a row without having to suffer from sweaty odours. The only problem is that these underwear tend to be more expensive than synthetic underwear.  But they are also warmer, which can be a good point for the more cautious. It is also possible to find a compromise with mixed wool underwear, which combines the different advantages of wool and synthetic.
Unlike synthetic materials, natural materials do not retain sweaty smellings: you can therefore wear them for several days in a row.
The more cautious ones can also get a pair of tights or leggings to complete their underwear. In specialized sportshops, they are located in the same department as the technical t-shirts.
The second layer: insulation first and foremost
The second layer is the one that has to bring heat. It must be adapted to the weather, but also to your resistance to cold. If the main function of this second layer is to keep you warm, it must maintain some breathability in order to continue to evacuate sweat.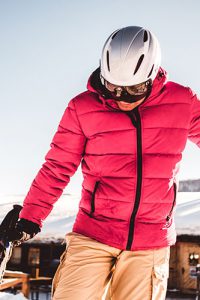 Like the first layer, the second layer can be represented by several types of clothing, adapted to the needs of each person. The fleece jacket is, however, the most successful intermediate garment. Affordable, thin, warm and breathable, it combines all the advantages necessary for good skiing. There are more or less thick fleece (from less than 60g/m2 to more than 200g/m2) adapted to the needs of each person.
This intermediate garment can also be a fairly thick wool sweater, for those who once again have a preference for natural materials. It is also possible to choose a thin down jacket, with or without sleeves. The goose feather insulated parkas, more expensive, will suit even the least cold resistant . For the other, a sleeveless blanket or fleece jacket will be perfect.
The third layer: heat and impermeability
The third and last layer is therefore the outer layer. In contact with the external elements, it must first of all prevent the cold from entering. It must therefore be water/ Snow / Wind proof. Remaining breathable to avoid humidity inside. Some fabrics such as Gore-Tex can be used to make a garment waterproof without affecting its breathability.
The third layer might  also be adapted to the needs of each individual. Experienced skiers who want more mobility will opt for a jacket and trousers set. Those who favour heath, will prefer lined jacket and trousers, certainly thicker, but much more insulating. Eventually, less experienced skiers and children will find more comfort in one piece ski suit that protects them much better from the snow in the event of a fall.