Discover Mountains differently:
Ski special equipments rental & sale.
The new slides are in Tignes:

SKI TOURING, SKI FITNESS & TELEMARK
Do you like to experiment? Do you like to discover new sensations on the snow? Mountain Story puts at your disposal all the most innovative and fun material. For the more curious, the skimen of Mountain Story organize weekly discovery sessions in the late afternoon.
The goal: make you discover the new sensations provided by these innovative gliding equipment, ultra light and adapted to all desires. Feel free to inquire to register for these sessions. Some are free!
Beyond the trails:

FREE RIDE AND FREE TOURING
Do you dream of getting out of the ski slopes without taking risks?
Do you dream of discovering the mountain differently ?
You dream of further hikes, even at the cost of some efforts?
Mountain Story has created Mountain Story Ski Experience School as an answer to all those who want to live the mountain differently, in maximum safety conditions. For an hour, a few hours, a day or more, discover new ways, more exclusive and rare, to live the mountain.
Mountain Story Ski Experience School guides are mountain addicts, like Charles Navillod, freerider renowned on Youtube and ambassador of the brand Movement. Live an unforgettable experience in Tignes between the sessions of freeride, telemark and skifitness.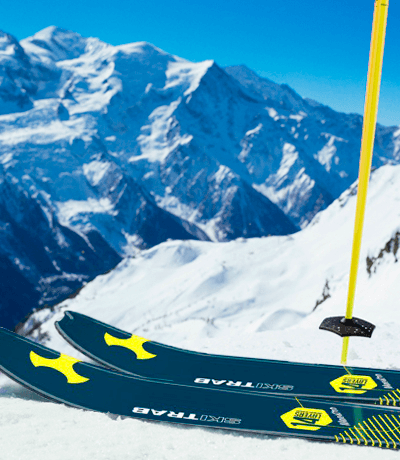 Ski fitness
Touring ski
Piste
All Mountain
Touring Free ski
Nordic Ski
Free ride
Télémark…
OUR SKI RANGES

for rental / sale
Most demanded brands, lastest models,… 
NEW SKIS SALE

BREATHTAKING prices & choice
Discover the thrill of telemark skiing

at Tignes Le Lac
Telemark was invented in Norway in the 19th century, and rediscovered in the 80s by a band of Colorado Americans. Little by little, its practice has again spread to Norway, Sweden, and then to all alpine ski resorts especially those with large off-piste areas.
Telemark is basically a set of Nordic skiing techniques, suitable for downhill skiing with free heel not fixed to the ski, which allows to execute harmonious turns, the famous "telemark turns" which are carried out with a kneeling of the inner leg.
Simply for the pleasure of accessing unique sensations, especially in powder snow. But the telemark requires very high technical precision and excellent " snow touch" feelings. And should you  telemark out of the trail, you must in powder snow, be very cautious  to the lift of the snow, and kind of "play" with it…
What qualities

are needed for telemark skiing?
You have to be ready to suffer a bit of the thighs at the start, because the postures are very physical, and require true muscular power in the legs. But the game is worth the candle: fluidity, very sensual contact with snow, telemark is almost like a dance. An activity in which one sees the body rising and lowering to the fluid rhythm of the curves in a rare elegance. An ideal practice for beautiful gestures lovers .
During summer, I rent my mountain Bike

AT MOUNTAIN STORY