RENT YEAR-NEW SKIS – LATEST MODELS
" Mountain Story selection "
Guaranteed on all categories, except eco…
The choice of excellence

IN NEW SKI RENTAL IN TIGNES
Mountain Story is animated by two ski and new slides enthusiasts that do not hesitate, at off season, to taste the snow of the most unusual mountains in the world … That's why the ski rental store Mountain Story gives absolute priority to the quality of the equipment offered. Ludovic, the  manager and off-piste skiing enthusiast, says: "When our guests come to spend a week skiing in Tignes, we often make them realise that, for the price of a "vin chaud" per day, they can enjoy year-new equipment from the most famous brands, and be sure of feeling outstanding sensations on the slopes!".
Choosing your rental skis, even new ones, is not done at random. Depending on the style of skiing that you like to practice, the brands all offer dedicated models, and it would be a shame to practice off-piste (secured of course) with inadequate equipment
Rental Skis:

ARE YOU SURE YOU'VE CHOSEN THE RIGHT GEAR?
Rental like no other means the possibility, throughout your stay in Tignes, to change your rental equipment. Changing your year-new ski gear in rental can be easily done in the same category or even in a different category. A unique opportunity, on the exceptional ski area of Tignes, for you to try new slide style.
Year new skis,
snowboards, boots
& helmets.
more than 60 models
available for rent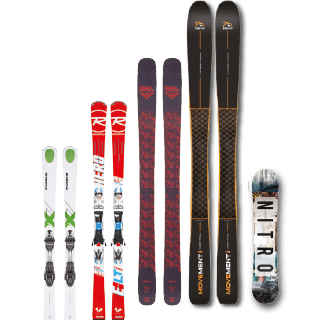 Lasted models of the
most demanded brands: 
Rossignol, Kästle, Head, Black Crows,
Movement…
Pleasure can't wait!
Get the best adapted aquipment and care for children begginning at 2.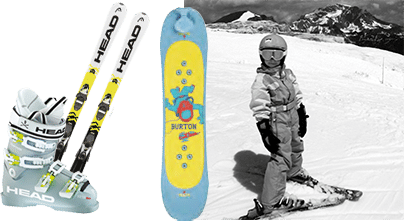 Renting new skis for children in Tignes:

THE CHOICE OF EQUIPMENT TO MAKE GOOD PROGRESS
"A good day of skiing starts with your feet!". For skiing, children also have the right to the best equipment. This is the key to seeing them progress and take pride in their level passed during the week. Mountain Story store, located just in front of the ski school departures of Tignes le Lac, in front of the House of Tignes, is the ideal rental shop for children's equipment.
Mountain Story skimen like to pamper the kids and give them special care, beyond the choice of skis, in the choice of ski boots for children.
"Often, kids are so proud to leave the shop with their equipment, they tend not to report if a ski boot does him a little pain. We engage to ask them the question three times: "Are you comfortable in your boots?", and try as many models as needed for the child to be absolutely comfortable in his ski boots. "


Important advantage: the situation of Mountain Story at the foot of the slopes and on the ski schools  meeting point, makes it possible in all simplicity to come change the shoes or adjust the skis of the children if needed.
These operations require only a few minutes and can be carried out after an hour or two of ski school, when they realize that they have a little trouble. And the result is often just a miracle !
See the exact location of the Mountain Story shop in Tignes.
Rent your off-piste

SKIING EQUIPMENT
Avid of virgin slopes, some like to taste the rare pleasure of "making the first trace" in a fresh snow, off the marked trails. Tignes is one of the most beautiful areas for off piste in the world. Mountain remains a unique space of freedom when one knows how to respect it and stays cautious. That's why Mountain Story offers the latest mountain safety equipment such as the "airbag" backpack in case of avalanche, ARVA beacons of course and foldable search poles.

For those who do not know the area's secrets, Mountain Story offers days or half-days discovery totally secured with qualified instructors.
A refreshed innovation!
Boot and helmet special treatment is beeing done between every rental with a machine specially designed for Mountain Story (ecological sanitaizer an purifyi solution approved by Institut Pasteur).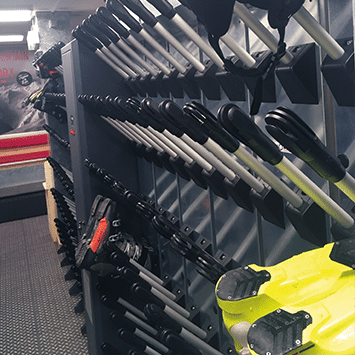 Ecology and innovation

IN THE HYGIENE AND CLEANLINESS OF RENTAL SHOES
How to ensure that the shoes and helmets are in a good state of cleanliness and hygiene?
Out of respect for skiers and to guarantee a perfect hygiene of the material between two locations, the rental teams of Mountain Story have invented and developed an exclusive device for purification and cleaning of contact equipment (ski boots and helmets).
Between each location, the shoes and helmets are placed on blowing pods, which diffuse a disinfecting and purifying solution certified by the Institut Pasteur. Dried and purified by this treatment, the ski equipment is then stored for the next rental.
Mountain Story has set up this unique, ecological and extremely effective hygiene device on helmets and rental shoes. Its aim: to avoid absolutely the unfortunately classical use of aerosol cans, not very effective, not very ecological, and whose aggressive active ingredients would cause skin lesions to the skimen who manipulate them.

During summer, I rent my mountain Bike

AT MOUNTAIN STORY